What Hairstyle Should I Wear to Prom in 2021? 10 Hottest Trends
Student Prom (studentprom.com) is a participant in the Amazon Services LLC Associates Program, an affiliate advertising program designed to provide a means for sites to earn advertising fees by advertising and linking to Amazon.com. This site also participates in other affiliate programs and is compensated for referring traffic and business to them.
Style is permanent, trends are changing – that's at least what they say about fashion. Just like every year, this year's prom is going to be rocking some new haircut trends, and you definitely want to be on top of that for making an appearance. Getting your hair right is that very important cherry on top of the cake (which is you), but that detail can be so immensely important if you want to make a lasting appearance – and today, we're going to be taking a look at the biggest trends in 2021 to decide what you're going to wear.
In today's article, we'll be taking a closer look at all the trends that are being revived in 2021, and we'll decide exactly what trend you're going to rock to prom.
Let's get started!
1. Shaggy Haircuts
A very 80s, rock 'n' roll—casual, mussy, and visually effortless haircut, the shaggy cut includes choppy ends, layers around the crown, and loads of texture. The point of this haircut is to look effortless, but it actually takes a lot of effort to make up. The modern version of this cut has a ton of texture, but it won't make you look like you're a member of an 80s hard rock band. Regardless of the length and texture of your hair, this hairstyle is a great option.
The fringe is the key when it comes to this haircut, and here are a few examples of a good shaggy haircut.
The classic shag is a version that incorporates soft bends, parted curtain bangs, and fluffy ends – this makes for a perfectly effortless shaggy haircut that still looks absolutely adorable and a cool style. Despite looking so effortless, you (or your hairdresser) are going to spend a lot of time styling it.
We also have a fluffy shag with a semi-parted fringe. The key to this hairstyle is the wave or the curl, it has to have a body but keep a soft texture at the same time. Ideally, you should let this style grow longer, as it allows for the curls to completely frame your face.
Following that, we have the long shag with soft waves. You can still have a great shaggy haircut even if you have longer hair. Longer hair actually allows your shaggy style to look elegant and shaggy at the same time. This look is easy to get by way of letting hair air-dry and spraying in plenty of sea spray.
The pixie shag is a great example of a fine-looking shaggy hairstyle despite having short hair. We're going to get to the pixie cut later, but a shag can be super short, which leans a little more on the shaggy mullet, or it can have a longer and feathered side, which only gives a softer finish. Ask your stylist to cut choppy layers from front to back. The deeper side part will give a bit more structure to a style that would otherwise be mussy.
Lastly, we have the undercut long shag – this is a shaggy haircut with a side shave, for the bolder ones. Ask your stylist for an undercut. Use texture spray to give the rest of your hair some mussy definition.
2. Layered Bob Haircuts
Layered bob hairstyles were more popular in the last century, but they seem to be making a comeback. It doesn't fit all face shapes, but if it complements your face, it can definitely be a stunning look! Here are a few examples.
Cute choppy bob with choppy bangs is an effortlessly layered bob with a choppy fringe that's also effortlessly chic and mid-length textured. It frames the face with bangs and also with its subtle undone texture and movement. You should find a stylist who can cut hair with a straight blade razor and they specialize in effortlessly undone hair. There isn't a woman who can't wear a bob or a fringe, but the length of the cut will largely depend on your face.
After that, we have the messy bob with curtain bangs. This is the most effortless-looking style out of all the examples in this section. The hair is choppy, and that makes it so easy to style on a bob hairstyle. It's similar to the messy layered bob haircut with bangs, and you can partner it with some curtain bangs, which will show some of your foreheads and end the tips on your cheekbones.
A classic shaggy bob with bangs is our next entry, and this is a combination of modern and classic styles. A sophisticated trend that doesn't take too much trying, this bob is best for thin hair, as it provides it with a few layers, and more texture and movement. A shaggy style isn't fully complete without a pair of layered bob with a fringe.
Shaggy layers with side-swept bangs is an adorable hairstyle that's primarily done with hair that's too straight. If your hair is too straight and you want it to move a bit more, this hairstyle is something that you must try. The feathered layers will allow the tresses to have extra texture, and the added side-layered bangs are an excellent choice for a more youthful and modern touch. Try side-swept bangs if you have a square-shaped face – it will soften the jawline.
Lastly, we have the angled bob with bangs. This is a versatile, bolder-looking hairstyle, and it looks very flattering on women with a round face. It makes the face look slimmer because it frames it so well.
3. Pixie Haircuts
Pixie haircuts were all the rage precisely 100 years ago, and they seem to be making a comeback. This is another classic style that's making a resurgence, and you should definitely think about it if you have the face shape to wear it. Here are a few examples.
The long pixie cut with V-cut layers is our first example, and it's a longer length of the longer pixie cut which allows you to experiment with silhouettes of your hairstyle while keeping in mind the amount, length, and position of layers. Feel free to experiment with cuts short in the front and long in the back or with an extremely short nape and long flowy layers on top.
After that, we have the long pixie with razored crown layers. This hairstyle is primarily well-fitting for women with finer hair, as it can help to incorporate dimension and texture. Talk to your stylist about razored layers at the crown, which will create added height that also looks pretty fun. The hairstyle you'll be rocking is soft and wispy, with a chic effect.
Next, the chopped blonde pixie with long bangs. This is actually one of the most popular trends for short hair, as it's cute and funky all year round. The chopped layers on your hair will add depth, and the blonde hue will make a style statement that's bound to be noticed by everyone. It's best to use a texture paste to fluff up the angled pieces and enhance the volume even more.
For finer hair, we recommend the long edgy long pixie haircut, which's always looking cool because of its varied lengths. The seemingly random shorter layers through the style generate extra thickness around the crown. You can simply wear your tresses smooth, or you can ruffle them up to add some versatility.
The messy asymmetrical pixie cut is an edgy look from the back to the front. The deep side parting, which achieves a spectacular dramatic effect, is a great fit for an urban princess of hipsters, as well as for a bohemian dreamer. This hairstyle looks wavy at times, and at times straight.
The long-textured pixie with an asymmetrical nape is a hairstyle for women who like hair that's short, but not too short. You shouldn't be in a hurry to chop your hair off, and long side pieces, a poofy top, and wispy layers that are cut in different angles will give you your desired stylistic choices. You can also mess around with colors and leave one side darker while keeping the other lighter.
4. Medium Hairstyles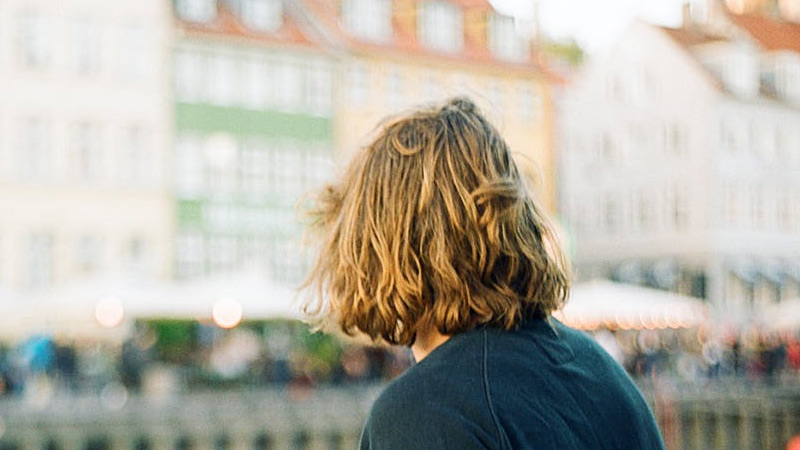 This is probably the most versatile hairstyle out of all the hairstyles on this list, as a medium can mean so many things. It's also the most common hair length, but the styles you can pull off with this length are everything but average. Experiment a little bit and take advantage of all that potential! Here are some examples.
Feathered mid-length style is sometimes a scary thought, as many women don't like the idea of wearing their hair in down dos – many people associate it with flat and boring. However, wearing a longer mid-length cut that can easily be styled straight might just be the right choice for you. Make sure to cut feathered layers to add extra texture, and keep some shorter ones around the crown.
After that, we have the bobbed volume with highlights. Thanks to the layering, this is more of a variation of traditional bobs. It can actually almost be characterized as a shag, but it's smooth and softly rounded, not tousled, and messy. This is just a layer of layers that bobs softly over the bottom.
A medium hairstyle with highlights is a great example that the days when bobs would be prim and proper are completely gone. The bobs we nowadays wear are embracing choppy layers and modern dye jobs. This faded-out highlights hairstyle is something you could definitely play around with, and you can always cut choppy layers into a long bob for the ultimate hairdo.
The center-parted disheveled blonde job is a hairdo that's clearly showing how you can easily part your hair down the middle without it looking flat and dull. Feel free to style your locks in a messy and uneven set of waves for an effortlessly undone vibe. Finish it off with a fresh and cool blonde color which will add brightness to your hair.
Disconnected ends are also making a comeback, and they're definitely one of the best options for the long bob. Don't deal with the upkeep of short hair and you can yet enjoy the fun and the carefree nature of that hairdo. Use disconnected ends to amp up the texture and volume of your style.
5. Curtain Bangs
Many women prefer this haircut to anything else, and the latest reports have it that the bangs have made another yet big comeback! There are critics who say that curtain bangs are not classy, but there are many red carpet attendees who have been rocking this style for ages. Curtain bangs can be very sophisticated if you know how to wear them. Here are some examples.
Fresh copper hair with curtain bangs is the style we're gonna use to start our list off. A fresh-looking copper hair with curls can look absolutely beautiful, and the style can be styled at medium length to avoid much weight. In this scenario, curtain bangs are incorporated as a way to frame oval faces, and bangs with fresh copper make for a great combination.
A choppy straight style with highlights is our next choice, but we don't recommend it to women with naturally curly hair. This haircut, with its curtain bangs, will boost volume and movement to your long bob, and you won't be left feeling like you've added a layer to your already heavy hair.
Updos with curtain bangs are another great variation of this style, that makes braids and top-knots look excellent (when they're augmented with this haircut). If your face is long, this is an ideal way to achieve the sleek updos, which will do a great job to keep everything in balance.
The modern Bardot is our next idea, with this iconic style being an inspiration to many women, but it's nowadays been redone with modern twists and trends. This hairstyle offers enhanced texture and face-framing layers that work together to give this style an excellent look.
6. Feathered Bangs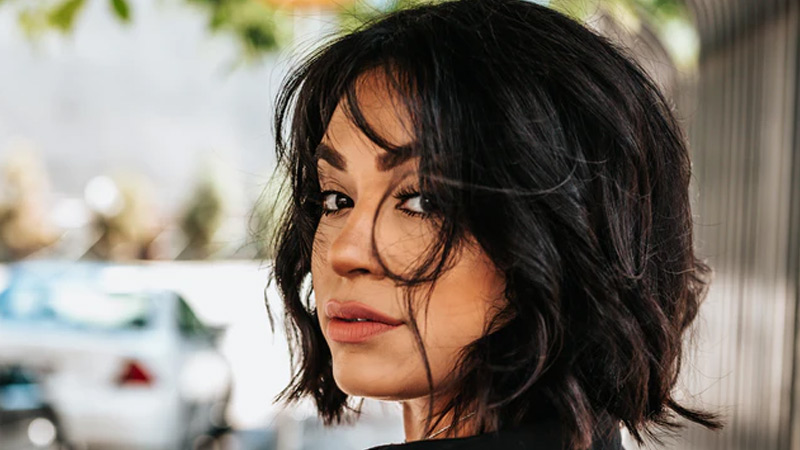 This is the best match for feathered cuts through all seasons, and it's been a favorite of women of all ages. There are tons of cuts you can choose from, so let's get right into it.
Feathered bangs with a textured bob is a great option, especially for women with longer faces, who usually stray away from hairstyles with slicked-back hair, sticking to elongated, oblique bangs. This hairstyle, though, will use the feathered front bangs with lightened ends to make the image of your face softer and seem wider.
Feathered bangs with bright highlights are a versatile style that can suit all complexions, and the shape of your face won't matter at all! An important role is played by the length of the strands – oblique bangs are usually a good choice if you want to hide imperfect hairline, or if you want to correct facial disproportions such as a low forehead or heavy eyebrows.
Side-swept feathered bangs are a timeless hairstyle that can suit almost any woman. Just explain to your stylist that you want a bangs style that will make an organic whole with your hairdo. If you have a natural middle parting, then go for the bangs parted in the middle, for example.
An inverted bob with long feathered bangs is another extravagant haircut with the volume on top while keeping short on the back of the head. It looks glamorous with see-through feathered bangs. If you add more volume to the sides, it will help to hide the cheeks and even signs of aging.
A short layered bob with inverted bangs can also look great, as long bangs are the easiest to style, especially if you're creative and you love to experiment. If you have thin hair, then this style is ideal for you since it adds volume!
7. Braided Hairstyles
Braids have never really lost their pull and they're still very popular amongst everyone. It doesn't matter if you're getting ready for your prom, a wedding, or some other formal event – a beautiful braid is incredibly versatile. Here are a few examples.
The French fishtail braid is a classic boho style for any event, and it's absolutely beautiful. This is one of the most versatile hairdos when it comes to braids, as hairstyles for medium hair in the shape of a wreath are versatile by rule and they can complement any outfit. It's simple enough to be worn with an evening dress and it adds a feminine hint to a classic oversized suit!
A fishtail ponytail is a great combination. Use a fishtail braid to spice up the regular ponytail, and it's very easy to do, as well. All you have to do is wrap the ponytail with the braid and let the rest hang down. This hairstyle is more discreet than some other on the list, as it's, after all, still a ponytail – but a ponytail with a twist!
The braided updo is a great style, and it's actually all just a really large Dutch braid, which is starting from the left side of the head and turning into a low, centered bun. Feel free to leave a few strands along the hairline when you're weaving the braid on the diagonal downwards. This will create the effect of slight negligence. This is the perfect updo for your prom, and make sure to talk to your stylist about it.
The large Dutch side braid is a summery style, that's achieved by doing a Dutch braid and adding a texturizing powder to help pull out and fluff the braid. Some hair accessories like rings, ribbons, baby's breath, pins, etc. will spice the hairdo up. It's simple as it gets, but it complements light dresses very well.
8. Tree Braids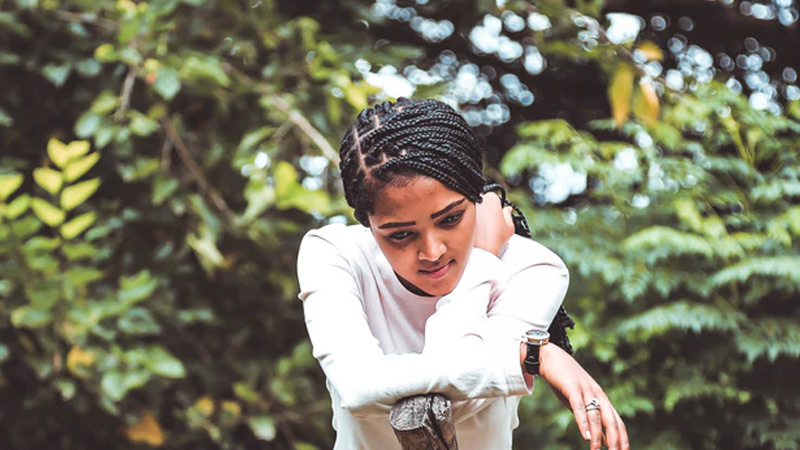 Tree braids are an excellent solution to problems like brittleness and dryness, lack of length, and laborious styling routines. This will protect your natural hair and gain a fantastic mane of desired length and thickness within just a few hours of work. Let's get started with examples.
The wavy center-parted tree braids are a 70s hairdo, and it's definitely making a return. Since the tree braids are parted down the middle, the free-flowing locks are softly curled to create retro waves. You can also use auburn highlights to the front, just to add more color to the style.
Highlighted tree braids are another simple way to experiment with new hair colors, and they will also spice up the hair color you already have. Since auburn highlights can be placed delicately to blend with the black illusion braids, these locks part down the middle and curl softly for a special occasion look.
Side-swept curls with tree braids are also making a comeback. This hairstyle is very reminiscent of old Hollywood glam, and it proves that the positioning of tresses can make all the difference. It's crucial to apply curls that are only soft so that they frame your face and part your hair on one side deeply.
A curly updo for tree braids is another styling option that's definitely going to draw some attention. This chic updo is definitely a flattering way to wear your hair, it'll be revealing your neckline and it allows you to try on your favorite large accessories. This updo is somewhat Mohawk-inspired and it's braided in neat rows across the back of the head, while the curls are piled on top to cascade onto the forehead in some sort of bangs.
9. Medium Layered Haircuts
This styling is ensuring that you always look feminine and well-groomed. Nowadays, it's an immensely popular haircut, that's definitely offering various options to the wearer. Here are some examples.
Shoulder length haircut with flicked ends is a great option if you're looking to spice up your current hairstyle. If your hair is medium to long, you can use flicked, choppy ends to make it more interesting. Since layers are always here to define your hairstyle and add more interest to it, don't be afraid of layering. Flicked hairstyles work especially well if you like the quick rough blow-dry styling.
A two-tiered mid-length layered hairstyle is another option if your hairstyle's shoulder-length (or if you're planning on shortening it). This may be a bit of an unorthodox approach to layering, and it's an ideal choice for you if you want to add a bit of dimension to your hairstyle without sectioning your look fully.
A long and disconnected choppy bob is another great option, as medium layered hair is one of those great versatile styles. If you have thick hair, then styling it into a choppy bob will bring dimension and easy styling – while for women with thin hair, it will create an illusion of having thicker hair. You can even use some curl crème for adding waves, or add highlights to brighten your skin tone up!
A mid-length haircut with side layers is another great way to go. Layers don't necessarily have to go all over your head to add the desired dimension. This style with side layers can frame your face in a way that's definitely going to compliment it, and it's especially going to do you some good if your neck is long and your face is oval.
10. Mohawk
The last, but certainly not the least important entry on this list, the mohawk is a hairstyle that's never going to be untrendy. It's quickly become the favorite of many men and women, and here are some great examples of it.
Steel-colored mohawk will inspire envy with everyone, mainly because of the color used. The color of the haircut is the most important aspect in this regard, as it's definitely going to draw attention – in a good way. The shining grey is never out of time and place. When you're styling this haircut, make sure to blow-dry the hair on the sides downwards with a flat brush and forward on top with a round brush.
Mohawk with multiple braids is another great combination of two good things put together. You can create both thin and chunky braids all over the head, which will create a great mohawk style, while also keeping the class of braids. This haircut doesn't actually require you to cut it as much, so you can actually keep more of your traditional hair and potentially your job. Make sure to braid that hair on the sides, and enjoy your prom.