What Would Be the Perfect Prom?
Student Prom (studentprom.com) is a participant in the Amazon Services LLC Associates Program, an affiliate advertising program designed to provide a means for sites to earn advertising fees by advertising and linking to Amazon.com. This site also participates in other affiliate programs and is compensated for referring traffic and business to them.
Most people believe that graduating students deserve a perfect prom and not just an ordinary prom. It takes a great effort and lots of resources to organize a perfect prom. Anyone who intends to organize or attend a prom would definitely want to know what a perfect prom would be like.
A prom can be considered to be perfect if it gives students the opportunity to catch fun and socialize with one another. An ideal prom would be so exciting to the point that even the most reserved student would feel comfortable expressing his or her social skills.
It's both visible and non-visible factors that usually determine the grandeur of a prom. A perfect prom would compromise all the things that make an event to be enjoyable. Kindly read on if you wish to know all the things needed for a prom to be perfect. 
1. Theme
A prom can't be perfect if it lacks a theme. A themed prom is usually exciting. Themes have the ability to unify the expectations of all attendees. Some attendees may not know what they are expected to do at a prom if the prom doesn't have a guiding theme. Some people may even feel uneasy while attending an unthemed prom.
Students would find it easy to socialize with their colleagues at a perfect prom due to the existence of a theme, which is a major part of any well-organized prom. Themes can be very festive or formal in nature. Both formal and informal themes are ideal for proms. In most cases, the prom committee would consult the graduating class before choosing a prom theme.
Most of the time, students would vote while choosing a theme. As soon as a theme is chosen, all other planning would have to conform to the theme. The theme can be regarded as the central guide for both the prom committee and the students.
Once the students are aware of the theme before the date of the event, they will also have the privileged to make only the needed preparations, especially in the aspect of dressing. More importantly, the theme will make the prom night more memorable. The importance of a theme at a prom can't really be overemphasized.
2. Awareness
It's always necessary to make the public aware of a prom on time. An ideal prom would be publicized through invitation cards and posters. One of the major advantages of publicity is that it allows parents to join their children in preparing for the prom on time. The methods of publicizing a prom aren't limited to posters and cards alone. Emails and social media are equally effective methods of publicizing proms.
Social media, in particular, is the most effective means to inform teenagers of a prom. Almost all teenagers have a social media account. Hence, the information posted on social media will reach teenagers, which are the target audience. Even if the target audience is already aware of the program, some prom organizers would still update the students about the preparation they have made so far.
When students are constantly reminded of a prom through emails, cards, and social media, their interest in the event will get stronger daily. Hence, they will attend the prom with high expectations. Those who intend to invite their friends to the prom would also find it easy to remind their friends of the prom as the date of the event approaches. In essence, awareness would bring the right sets of people to the prom and also prepare their minds to benefit maximally at the event.
Photos
The photoshoot is part of the things that makes a prom enjoyable and memorable. At least one professional photographer would be at an ideal prom to capture most of the wonderful moments. Students sometimes come with their cameras too and photograph one another. Usually, at a prom, some particular parts of the venue would be reserved for photographs, but students are free to take photographs from any part of the venue.
Some students may even take photographs outside the venue. Most of the time, students would be privileged to take photographs both within and outside the venue for at least 30 minutes before the prom commences. Most students would pair up with their dates to take photographs, but some students can still take selfies. Parents can also take photographs together with their children, though it's somehow uncommon. Everyone may also come together for a group photograph.
The photo has been an important element in prom right from the time when prom became popular. Most planning committees of ideal proms would allocate a significant percentage of the prom budget to set up an attractive photo booth. There may be more than one photo booth so that students won't have to queue for too long before using the photo booth.
3. Colorful Venue
Venue matters a lot when it comes to proms. The venue can determine how attendees feel during an event. Let us show you parts of the things that make a venue ideal for prom. The chosen venue should not be far away from most attendees so that everyone can attend the prom without traveling over long distances.
The venue must be large enough to accommodate all the participants. For instance, if the estimated number of attendees is 400, then the venue should be large enough to accommodate at least 400 people. It's best if the venue can accommodate more than the estimated number of attendees. Also, the venue should have a large parking lot since most students will come in a limousine.
The layout of the chosen venue should be suitable for prom. For instance, a venue that doesn't have a large dance floor automatically lacks an essential facility. In fact, the dance floor is one of the most important facilities at a prom. Also, the existing decors of the venue should match the theme of the prom. If a venue already has decors that match the prom theme, much money won't be spent to decorate the venue.
The neatness of the venue matters a lot too. Attendees won't feel comfortable staying in a dirty environment. Prom venues can become messy within a short time after the program starts, so it's advisable to use a venue that renders quality cleaning services.
Catering is another important service to be considered while choosing a prom venue. If the venue is in charge of catering, then it must be able to serve the kinds of meals that teenagers love. However, some prom organizers can decide to serve their own menu rather than relying on the venue to offer catering services.
4. Decorations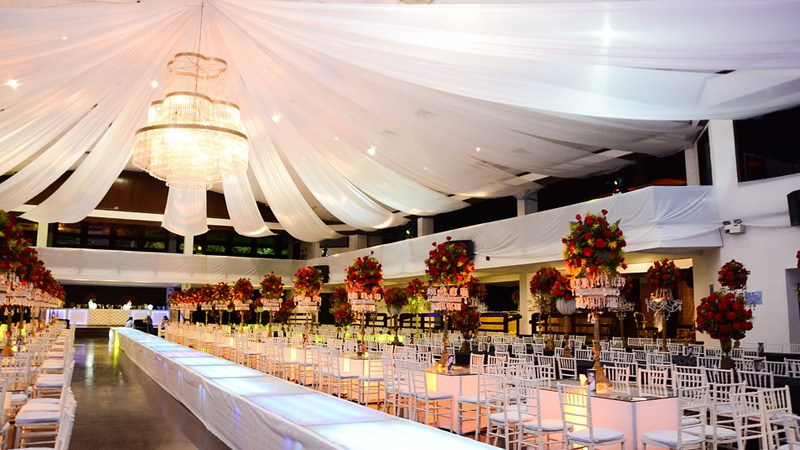 The decoration is part of the things that determines what the venue's atmosphere feels like. In most cases, decoration gives students a first impression of the splendor of a program. A perfect prom should have decorations that make attendees feel comfortable. The decoration has to match the prom theme. There are various items and areas that require decoration at a prom.
The tables, chairs, and walls should be well decorated with colorful tablecloths, curtains. The ceiling is sometimes also decorated, especially if it doesn't look classic. Although curtain is usually the major element of decoration in most events, it doesn't necessarily have to be the major element of decoration in a prom. There are several other decorative elements that can beautify a prom venue.
Lighting is one of the decorative elements that make an event venue have a perfect atmosphere. A prom venue should have several colorful lights. Colorful lights will not only beautify the venue but also make the attendees feel relaxed.
The seating arrangement is one of the overlooked decorative elements. However, the seats at a perfect prom are usually arranged with the intention to decorate the venue. The seats at a prom are usually arranged in ways that bring attendees close to one another so that people will be privileged to enjoy one another's company.
5. Entertainment
A perfect prom should be full of entertainment to be remembered for a lifetime. In fact, we can consider entertainment to be the primary purpose of proms. Most students also attend proms with the intention of catching fun.
As a member of the prom committee, you should seek all means to include various forms of entertainment in the event. Ensure you pick the kinds of entertainment that match the theme you have chosen for the prom. Just like we all know, dance is the dominant form of entertainment in a prom. Consequently, you need to hire a professional DJ that will inspire everyone to dance maximally.
You may decide to hire a famous music band. Live performance can make everyone at the prom feel elated, especially if the music band sings popular songs. You should verify that the DJ and band that you intend to hire can work with the kinds of songs that you want to listen to at the event.
Game is another form of entertainment that will keep everyone active and happy during the event. One of the benefits of games is that it gives the participants an opportunity to challenge one another. Teenagers love challenges, so it makes sense to give them the chance to challenge one another on prom night.
There are several other entertainment options, so we don't expect you to limit yourself to the ones we mentioned. Feel free to choose any form of entertainment that teenagers like and which matches the prom theme. The major purpose of entertainment is to keep the guest happy and comfortable, so whatever seems to make the guest happy can be part of a prom.
6. Refreshment Menu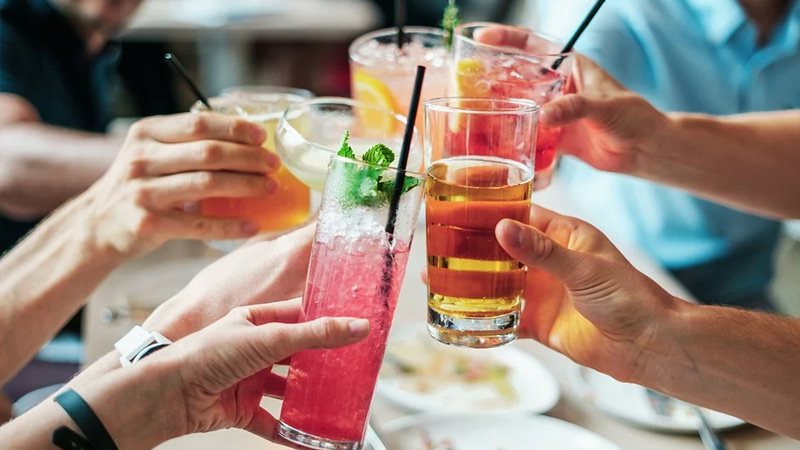 Varieties of food and drinks must be available at a prom venue before the prom can be considered perfect. The refreshment should be enough for the estimated number of attendees. Also, parts of the refreshment options should be suitable for attendees with food restrictions or allergies. A prom that lacks vegetarian food options isn't fair enough to attendees who are vegetarians.
There should be lots of appetizers and snacks also. Teenagers like appetizers and snacks like fruit, crackers, cheese, chips, and pizza. Beverages should be part of the refreshment options in a prom event, but alcohols shouldn't be provided. It's important to note that alcohol isn't meant for teenagers, but prom is majorly for teenagers. Hence, only non-intoxicating drinks should be available at a prom.
Professional caterers should be hired to serve drinks and food at a perfect prom. However, people who are not professional caterers can also render some assistance as long as they understand the basics of catering. The dinner style for a perfect prom should bring all attendees together in one way or the other. Styles such as family-style and plated style can help attendees socialize more in the course of eating and drinking.
There should be enough serving equipment at an ideal prom as it would be unfair if some attendees can't get what they need. Water glasses, dinner plates, and cutlery are examples of things that should be provided in excess.
The beverage station at a prom should have enough glassware, ice buckets, and beverage dispensers. Wastebaskets should be provided at strategic places so that attendees can dispose of trashes without littering the venue.
7. Favor
Prom celebrations where students receive favors are usually more memorable than the ones where students don't receive any favor. Favor makes a prom celebration feels perfect. The items that students receive as favor don't really matter as long as such items serve beneficial purposes. Items like photo frames, bags, and tech gifts are common examples of favors that students usually receive at prom.
If the budget of a prom isn't too tight, each student may receive very expensive favors. Favor will not only make every attendee happy at a prom, but it will also serve as a memento. Most of the time, favors are given to the participants at the end of the prom and not at the beginning of the program.
Sometimes students may have to wait for a few days before receiving their favors if they are to receive a framed photo of their photoshoot at the prom. This is not very common, though, but it sometimes happens.
8. Prom Rules
A perfect prom isn't all about catching fun. An ideal prom should have some rules that define the conduct and mode of dressing of all the participants. One of the benefits of the prom rule is that it unifies the objectives and expectations of all participants. If the rules are not stated clearly, some students may not dress or act according to expectations.
The purpose of the prom rule is not to limit the fun at a prom. Instead, it's meant to maintain orderliness. Without orderliness, the primary purpose of prom may soon be forgotten. The rules at an ideal prom would be written and made available to students before the prom date.
Once all the participating students have been informed about the prom rules, some sets of people would be assigned to verify whether all the participants are abiding by the stated rules. The stated laws are enforced mostly at the entrance of the venue. For instance, the law may forbid people from entering the venue if they do not provide a valid means of identification.
9. Team Efforts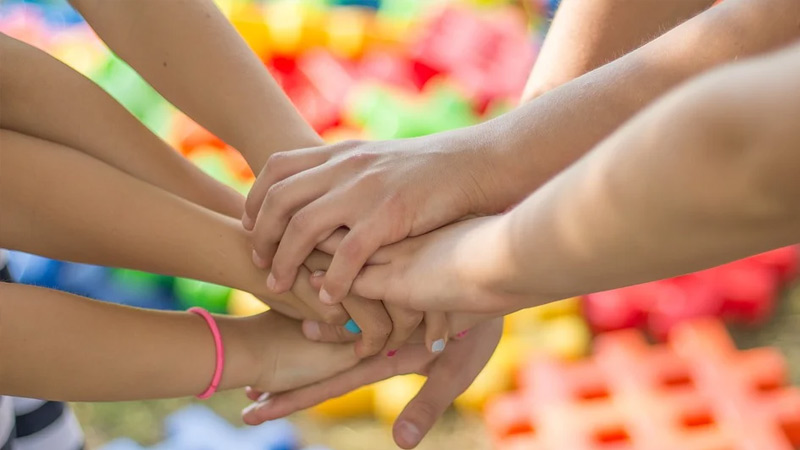 It takes a team effort to organize a perfect prom. At an ideal prom, all the people that render services would work cooperatively. Attendees will feel comfortable at a prom if there are services that make them feel special all through the night. At an ideal prom, there would be a team to welcome students at the entrance. There would be another team in charge of sanitation at an ideal prom.
Although the two teams that we mentioned above might appear to render less important services when compared to the catering and entertainment team, their services are required in order to organize a successful prom.
Without a team effort to coordinate the prom and manage the available resources, a prom would become so disorganized. Of course, a disorganized prom can't be regarded as a perfect one, no matter how entertaining the prom is. Consequently, all ideal proms would comprise of people who work cooperatively to make the prom successful.
10. Uniqueness
Uniqueness is one of the qualities of a perfect prom. Students may not see anything special in a prom that sticks solely to the normal routine of celebration. It takes creativity and originality to make students feel special at a prom. The uniqueness of a prom could be in the area of entertainment, refreshment, menu, favor, etc.
Professional event planners may be consulted to suggest new ideas that would make a prom stand out. Fortunately, the advancement in technology now makes it possible to try new ideas at a prom. Some traditional procedures may even be modernized with the latest technology.
The planning committee would be responsible for introducing new ideas. Students are more likely to remember every aspect of a unique prom. Also, a unique prom would take many students by surprise.