Tuxedo vs Suit for Prom: Differences and Recommendations
Student Prom (studentprom.com) is a participant in the Amazon Services LLC Associates Program, an affiliate advertising program designed to provide a means for sites to earn advertising fees by advertising and linking to Amazon.com. This site also participates in other affiliate programs and is compensated for referring traffic and business to them.
Prom might be fast approaching, and you have to make sure that you are going to look at your sharpest on a night that will only happen once in your lifetime. That said, you might be wondering what you should swear. Should you go for that classic and timeless tuxedo or should you go wear the more versatile suit? That's something we should talk about as we discuss more about the differences between a tuxedo and a suit.
Tuxedo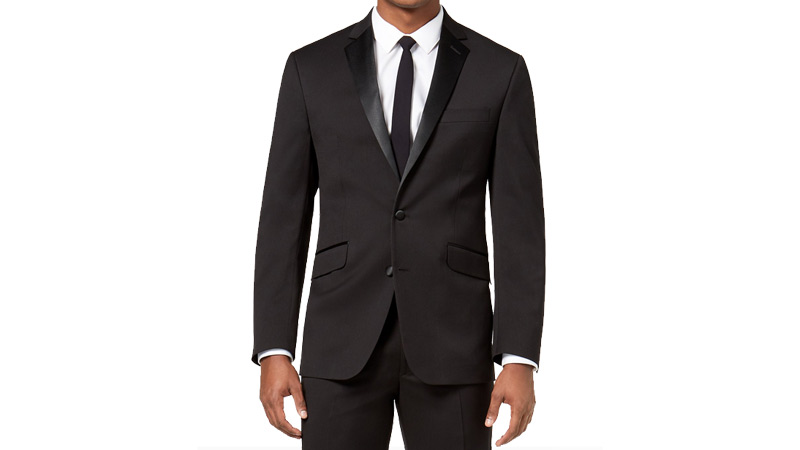 Regardless of whether you are going to prom or to any other formal event such as a wedding or an evening gala, there is always one word that stands out when it comes to what men should wear so that they would look sharp and at their best. More often than not, that word is a tuxedo.
Often shortened with the term "tux", tuxedos have always been the classic standard-bearer when it comes to what any man should wear to a formal evening event that requires him to look at his best and to look dashing and downright sharp. Whenever you watch the old James Bond movies and you see the spy attending formal events at night where he usually meets the leading ladies of the films, he is almost always wearing a tux.
In that regard, the tuxedo has become the standard for what men should be wearing during a formal evening event as many different characters and personalities wear it to instantly become better versions of themselves as far as their individual appearances are concerned. This style has been around since the middle of the 1800s and has quickly become what most men would prefer to wear. It is timeless and classic and is more or less traditional in the sense that its composition has not changed or evolved much ever since its introduction.
So, what is the composition of a tuxedo?
Jacket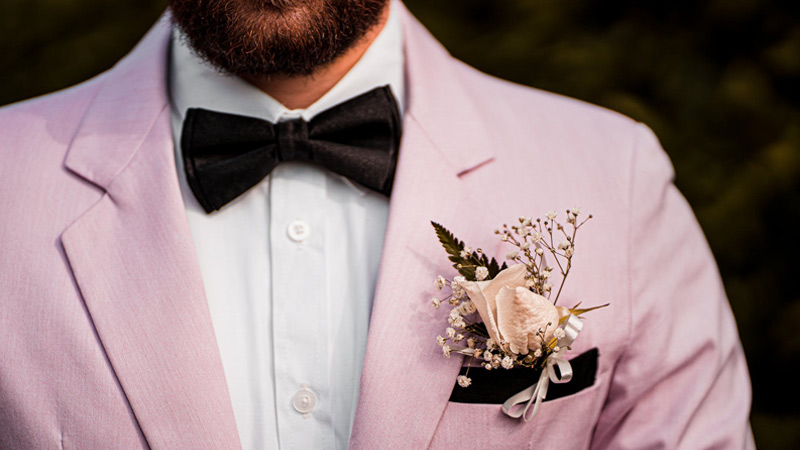 Probably the most important component of a tuxedo is the jacket that you will be wearing over all of the other garments that make up the composition of a classic and traditional tuxedo. Without the jacket, the entire ensemble will never be complete and you can't say that you are actually wearing a tuxedo.
In most cases, the tuxedo is composed of a jacket that is single-breasted and is usually made of wool, herringbone, barathea, or a combination of wool and polyester. In most cases, the dinner jacket of a tux has side vents or even center vents. But it was only during the middle portion of the 1900s that the vents were introduced as the more traditional pre-war dinner jackets were actually ventless. However, you can still wear a ventless dinner jacket for your tux as it is considered to be more formal than the ones that have vents.
Meanwhile, in terms of the color of the jacket, the traditional tuxedo dinner jacket should be black or midnight blue. As such, this is why the tuxedo is known as the "black tie" in almost any other country other than the US. However, in recent years, the white dinner jacket for the tuxedo has become quite popular as well while still maintaining the "black tie" theme with all of the other components (except the dress shirt) still sporting black or midnight blue. Meanwhile, the buttons on the dinner jacket should be the same color as the jacket itself and can either be self-faced or covered by the same material that you see on the lapel of the jacket.
Speaking of the label, the dinner jacket's lapel can actually be quite diverse. They can be shawl lapel, peaked lapel, or notched lapel. The more traditional ones tend to be peaked lapels but shawl and notched lapels are now becoming quite popular. And what makes the lapel of a tuxedo's dinner jacket remarkable is that it should be made of silk or satin to differentiate it from the rest of the materials used on the dinner jacket.
Black bow tie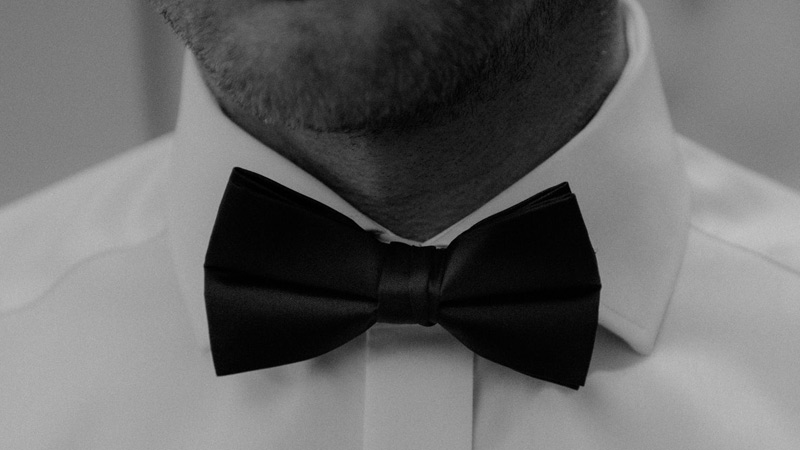 Staying true to the "black tie" name of the tuxedo, it should always have a black bow tie. Traditionally speaking, you cannot call a tux or a black-tie with these names unless you are actually wearing a black-tie together with all of the other components. However, because of the modern fashion sense and unique styles of today's generation, more and more people have been wearing different tie colors that also go well together with the colors of the rest of their outfits. But if you wanted to stay as traditional and as formal as possible, stick with the black tie.
The black bow tie should be self-tied and should not be pre-tied. If you want to learn how to tie a bow tie, the shoelace knot is often the most popularly used way to tie it. Meanwhile, the material and color of the bow tie should almost always match the lapel of the dinner jacket.
Trousers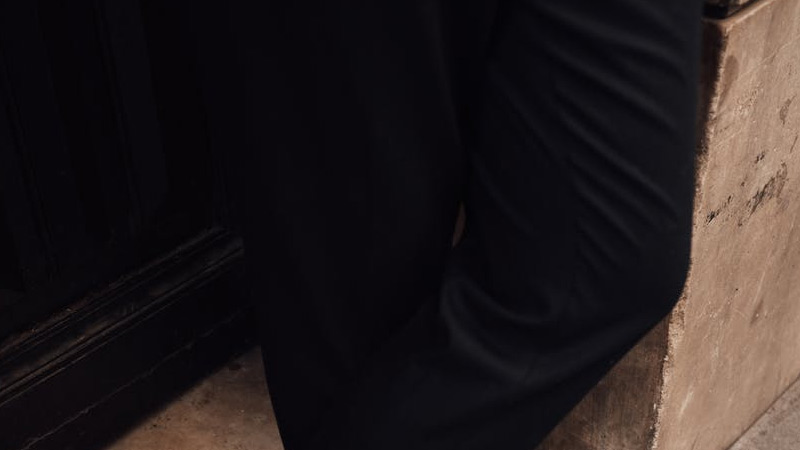 You cannot go to a formal event or to prom without wearing trousers. That's why wearing trousers should always be a part of the regular and traditional components that make up a tuxedo or a black tie.
The traditional trouser or pants of a tuxedo have no belt loops. Traditionally, men used suspenders hidden underneath a waistcoat to keep the pants up. But, again times have changed today. That's why it is now acceptable for men to be wearing trousers that actually have belt loops although it is still more formal to wear pants that don't have them.
Trousers for a tuxedo are usually black or midnight blue depending on the color of the dinner jacket. But white dinner jackets should be paired with black trousers. Meanwhile, in the more modern period, you can wear any color of pants you want as long as they go well with the entire ensemble of the tuxedo.
Waist coverings
Traditionally speaking, waist coverings are important for a black-tie ensemble. That means that you are never truly wearing a tuxedo without waist coverings. There are two common waist coverings for a tuxedo: a waistcoat and a cummerbund.
1. Waistcoat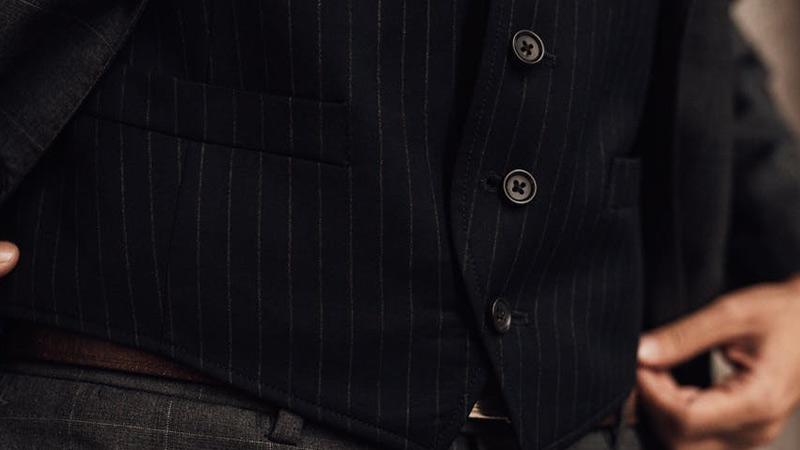 The waistcoat or the vest plays an important role in covering some of the parts that should be covered on the trousers. This includes the suspenders and the zippers on your pants. They allow you to stay discreet while adding a bit more style to the entire ensemble.
When choosing a waistcoat for a single-breasted dinner jacket, you should be wearing a low-cut. Meanwhile, double-breasted dinner jackets can be worn with high-cut waistcoats. Ideally, the waistcoat must be the same color as the dinner jacket except when you are wearing a white jacket, which should be worn together with a black waistcoat. But, nowadays, you can complete your style by mixing and matching different dinner jackets and waistcoat colors.
Always remember that the waistcoat should be made from the same fabric as the dinner jacket. That's why it is ideal to buy the jacket and the coat as a set or to have both of them tailored at the same time so that the fabric and the color match together. You can also choose between a V-shape or a U-shaped waistcoat.
For those who might feel like wearing a waistcoat can be too warm because you are technically adding another layer over your clothes, you can choose to go with a classic cummerbund that is just as formal and as dashing as a waistcoat but slightly less formal.
2. Cummerbund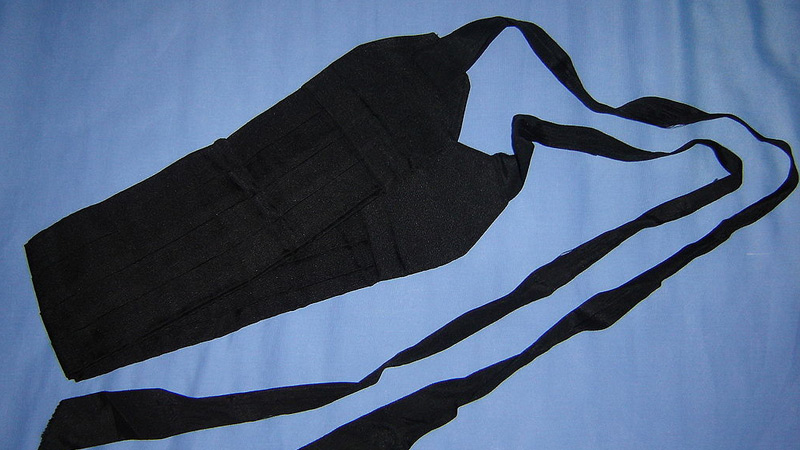 Cummerbunds are similar to belts in appearance and actually have a similar role in keeping your trousers on. So, if you are using a cummerbund, there is no need for you to be using suspenders. They are also often seen as extensions of your trousers. As such, make sure that your trousers and your cummerbund are of the same fabric and color.
Shirt
Underneath the waist covering and the dinner jacket should be a dress shirt. In America, these are often called tuxedo shirts because they are specifically meant to be worn in a tuxedo as they have different designs that don't go well with other clothes
Dress shirts or tuxedo shirts are traditionally supposed to be white and have a bibbed front. Meanwhile, the traditional tux dress shirt should also have French cuffs and a turndown collar. However, the wing collar is already making a return and is quite popular among style connoisseurs as the best way for you to wear a tuxedo. But a lot of people suggest that you should only be wearing a wing collar when you are wearing a white bow tie due to how the wing collar exposes the tie's band.
Footwear
Today, the most popular way for you to complete the tuxedo ensemble is to pair it with an Oxford shoe made out of leather. Meanwhile, you should never use Brogue's when you are wearing a tuxedo. You should only be wearing black shoes together with your black or midnight blue tuxedo.
But, depending on the more modern styles today especially amongst the youth who would want to wear tuxedos for prom it may be possible to wear different shoes that are far from the traditional shoes that you should be wearing when for a tuxedo.
Suit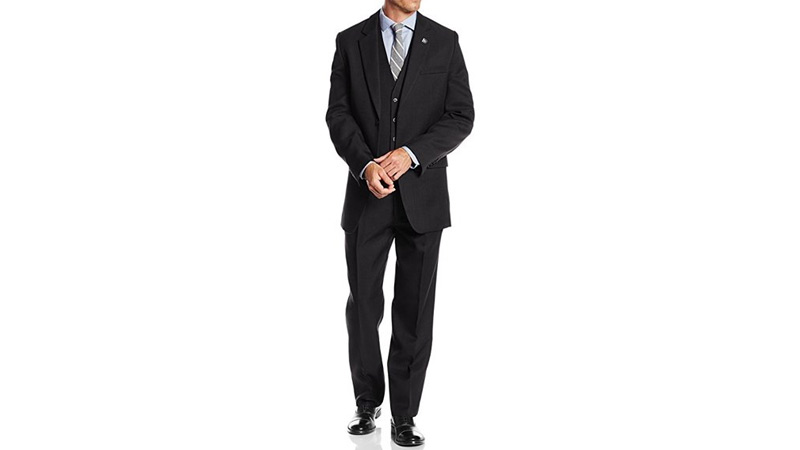 Alongside the tuxedo, the suit is another formal wear that men use to attend social gatherings and evening events. While a lot of people do think that a suit is similar to that of a tuxedo, the suit is actually quite different especially when you consider how much more varied it is compared to a tuxedo.
As mentioned, suits are quite varied especially considering that they are not often as strictly policed by society as tuxedos are. That means that there are plenty of different varieties of suits that can be used for different events. You can even classify the tuxedo under the catch-all classification of suits but, in most cases, they are seen as entirely different from one another in terms of their composition.
So, let's look at the composition of a traditional or classic suit.
Jacket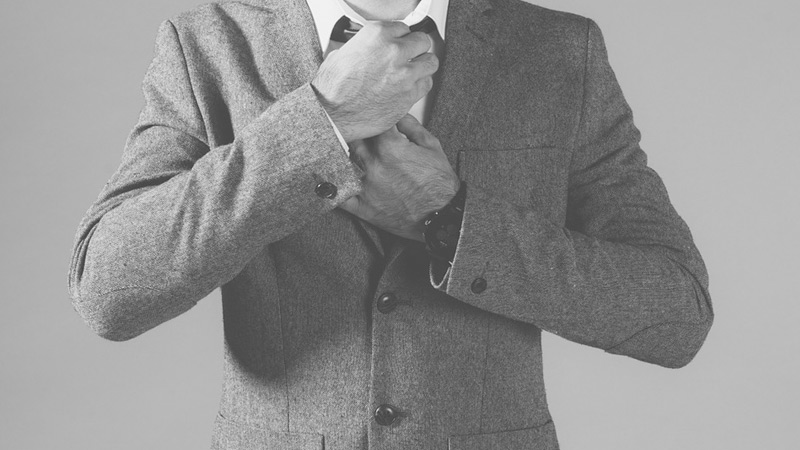 Just like the tux, the suit is almost never complete without a jacket. The jacket is what completes the entire ensemble but there are cases where some suits can still be classified as suits even without a jacket such as when the man is wearing a vest or a waistcoat. Nevertheless, the jacket is almost always what makes a suit a suit.
Most of the suits used for jackets are single-breasted but you can always go for the double-breasted option if you want. You should go for jackets that have two or three buttons although having more than three buttons can be fine even though it is quite unusual. Meanwhile, double-breasted jackets for suits are decorated with two sets of buttons but only the outer buttons are actually usable while the inner buttons are just there for decoration. Suit jackets also tend to have slits or vents at the bottom.
The fabric for a suit's jacket can be quite varied but they are usually made from wool. Other materials that can also be used for suit jackets are cashmere, polyester, and silk. There are also some instances where the materials are blended and mixed together as when silk is mixed with wool or when polyester is used together with wool.
Meanwhile, the colors that you should be using for your suit tend to be varied depending on the occasion you are using the suit for. Colors such as dark grey, light grey, or navy blue tend to be common for business purposes. On the other hand, black suits are usually reserved for weddings, evening events, and funerals. You can also use different-colored suits depending on the event you are going to and on your personal style such as when you are attending your prom.
The pattern on the suit's jacket can also vary from one design to another. There are some suits that make use of pinstripe patterns while others use tweed. You can also use plaid or checkered suits. But, if you want to keep things simple, you might want to go with a suit without any pattern on it.
There are three main lapels used for the suit's jacket. These are the notched, peaked, and shawl. The type of lapel you want depends on your choice. In most cases, the lapel on the jacket is made of the same material as the rest of the jacket. They may even come with buttonholes that you can use for different decorative purposes.
Waistcoat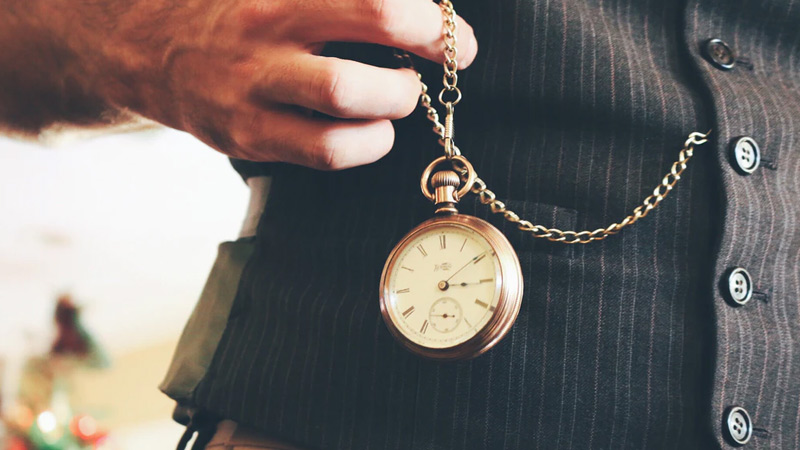 Wearing a waistcoat is entirely optional for a suit because you can actually do without it unlike when you are wearing a tux, which will require you to wear either a waistcoat or a cummerbund. The waistcoat is something that depends entirely on the style that the man is after and, in most cases, on the weather itself because the weather might get too hot for you to be wearing a second layer over your dress shirt.
The ideal waistcoat or vest to wear should have the same color and fabric as your jacket. That's why it's important to buy the jacket and the waistcoat as a set or to have them tailored together by the same tailor. However, you may be able to go a different route with the color of the waistcoat depending on the style you are trying to pull off.
A waistcoat that is worn under the jacket can be either U-shaped or V-shaped. But the V-shaped waistcoat is what is being commonly used nowadays. Meanwhile, you should also go with a low-neckline waistcoat for a single-breasted suit. For double-breasted jackets, you should go with a high-neckline waistcoat.
Because of how the suit is not as policed as the tux, even wearing a waistcoat or a vest over your dress shirt without wearing a jacket can be considered a suit. However, make sure that the waistcoat was specifically designed to be worn as such especially when it comes with a lapel.
In the academe, it is common to see professors not wearing waistcoats but sweater vests instead. These are vests that have the same fabric as a common sweater but are sleeveless and usually don't have buttons.
Trousers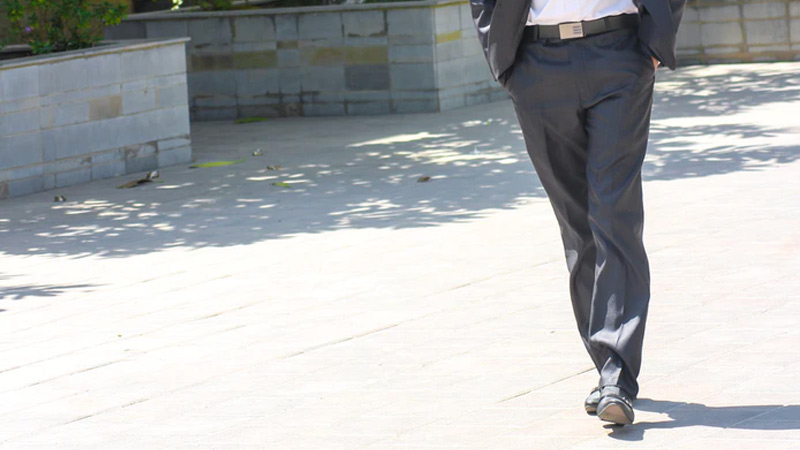 Of course, no suit is complete without wearing trousers. It goes without saying that you should never wear your suit to prom without any pants on. Suit trousers are also called dress pants in America.
When you are choosing your trousers for your suit, the one thing you should make sure of is that it matches the color and fabric of your jacket. Or, if you are not planning on wearing a jacket and would just go with a vest, make sure that your vest and pants match.
While most trousers now have varying colors and styles that depend according to the preferences of the person, the traditional trousers follow the traditional colors of a jacket such as when the jacket is grey, the pants should also be grey. However, you don't always have to have the same pattern on your trousers as the one on your jacket. Another exception is when you are wearing a sports coat instead of a traditional suit jacket.
Dress shirt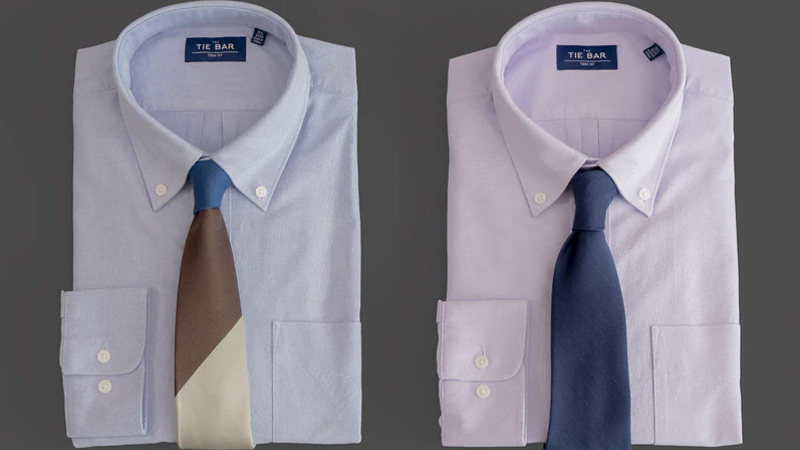 The final necessary component of the suit is the dress shirt. Traditionally speaking, the dress shirt is a long-sleeved shirt that should be bottomed from the top all the way to the bottom. It should also have a turndown collar to allow you to hide your tie underneath the color.
For a suit, the dress shirt's color and style can differ depending on the overall style that the person is trying to achieve. Commonly speaking, most people would rather go safe and choose white as their dress shirt. But there are now more people who are preferring to go with colored dress shirts that, of course, match the color of their jacket and pants. They could go full blue or full black with their theme by choosing a blue or black dress shirt that matches the blue or black jacket or pants. However, in most cases, formal and business events usually call for a white dress shirt.
But with how varied style has become today, a lot of people are now wearing suits not with dress shirts but with common T-shirts or even turtleneck sweaters. This, however, means that wearing such shirts under the jacket will not allow the person to wear a tie.
Accessories
Accessories are entirely optional for those who are wearing suits. Yes, a tie is actually optional whenever you are wearing a suit because you can still complete your look even without wearing a tie as long as you are wearing a dress shirt under your jacket.
If you want, you can forego the traditional necktie accessory and go with a bowtie instead. You can even use other accessories such as pocket watches and cuff links to complete your overall look. And when you just want to go as simple as possible, you may still look dashing without any accessories at all especially when you are wearing a shirt with no collar under your jacket.
Differences between tuxedo and suit for prom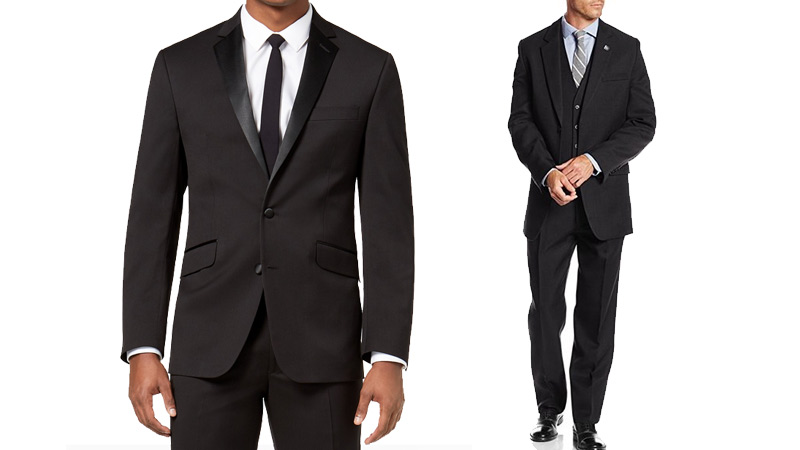 Now that you know what the tuxedo and the suit are and what their major components are, it is now time for us to discuss what makes them different. Judging from their components, you would see that there are actually quite a lot of differences between the two even though they might not seem obvious to some people at all. Let's go over them one by one.
Jacket
At first, there seem to be no apparent differences between the jacket of a tuxedo and a suit but you would be surprised to know that there are actually plenty of them if you just try to look at the components clearly.
First off, the jacket of a tuxedo has lapels that are made of silk or satin while the jacket of a suit has lapels that are actually made of the same material as the entire jacket. This means that the label on the tuxedo tends to stand out more than that of a suit.
Second, tuxedo jackets should not come with any patterns at all as they should be as plain as possible. Meanwhile, tuxedo jackets are traditionally black and midnight blue. On the other hand, suit jackets tend to vary in both the designs of their patterns and the color of the entire jacket.
Third, tuxedo jackets should not have slits if you want them to be as formal as possible. While some tuxedo jackets now have slits, they are usually used for less formal events. Meanwhile, suit jackets almost always have slits.
Shirt
The shirt of a tuxedo should always be a dress shirt. If you are not wearing a dress shirt underneath, then you are not wearing a tuxedo. Tradition also requires that the shirt of a tuxedo be white. You can only be a little loose with the type of collar you choose as you have an option between a turndown collar and a wing collar.
Meanwhile, the shirt you can wear underneath a suit can vary depending on your style and preferences. You can go the traditional route by wearing a white dress shirt but you can also try to be bold by wearing a simple shirt or a turtleneck sweater. The color of your dress shirt also varies depending on your own personal preferences. But, if you want to be as formal as possible, you have to choose a white dress shirt.
Accessories
The accessories of the two are also where things become a lot more different. For starters, the accessories of a tuxedo are what make it a tuxedo such as when you are wearing a waistcoat or a cummerbund to complete the entire ensemble. Of course, it will never be a tuxedo without the black bowtie. Meanwhile, if you are wearing a suit, the accessories you wear are all up to you but, for formality's sake, you should go with a traditional necktie.
Shoes
Tuxedos tend to be strict with what kind of shoes you should be wearing. The only acceptable shoe to be worn in a tuxedo is a leather Oxford and nothing else. Meanwhile, plenty of different shoes are accepted when you are wearing a suit. This includes Oxfords, Brogues, loafers, or even slip-ons.
Events
Finally, the type of events you should be wearing tuxedos and suits are also quite different even though there are some commonalities between the two. For example, certain common events that you can wear a tuxedo or a suit include prom, weddings, and evening galas.
However, you have to know that tuxedos should only be worn to evening events that are formal such as evening galas and evening weddings. Your prom can also be included as an evening event where you can acceptably wear a tuxedo. As long as the event is quite formal and it happens in the evening, you can wear a tuxedo.
Meanwhile, suits tend to be quite versatile. You can wear them to weddings, funerals, business events, evening gals, and even your prom. That's why some people prefer suits over tuxedos as they are more versatile and can be worn in a lot of different events regardless of whether it is night or day.
Our recommendations
For those who are planning on going to prom and have no time or money to have a tuxedo or a suit tailored specifically for them, here are some of our recommendations:
Tuxedos
1. Kenneth Cole Reaction Slim Fit Tuxedo
If you want to go the traditional route after choosing to wear a tuxedo for your prom, then this tuxedo from Kenneth Cole Reaction should be a good choice for you. It comes with the traditional all-black jacket and trousers combo that has been time-tested to be the all-time best kind of tuxedo you can wear in any kind of event. However, there are also other colors you can choose from aside from the traditional black.
This tuxedo is made of 65% polyester and 35% viscose, which probably aren't the best materials but they are comfortable and good-looking enough for any man especially if you factor in how affordable this tuxedo is. And what we like about it the best is that it fits the times because of its slim fit appeal that will truly bring any man's flattering figure. So, if you are interested in this tuxedo, click on the button below.
2. COOFANDY Men Floral Tuxedo
For those who are willing to be a bit bolder with their approach instead of following what has been traditional, you can go with the COOFANDY Men Floral Tuxedo. As the name suggests, it comes with a dinner jacket that has a floral pattern that breaks tradition but is perfectly in line with how the youth would like to stand out even in formal events. Moreover, this tuxedo comes in a lot of different colors that you can choose from so that you don't have to stick to the boring old black color that has been the norm when it comes to wearing a tux.
However, when you choose this product, you should be aware that you are only going to be getting the dinner jacket and not the entire set. You have to make sure to find a nice dress shirt and a pair of trousers that would match the color of the jacket you choose. The good news, however, is that you are open to choose whatever style you want to match the boldness of this floral tuxedo. Check this tux out here if this is the style that you want.
Suits
1. Calvin Klein Men's Slim-Fit Suit
If you want to look good in the traditional and formal way without breaking away from what has always been considered simple and good-looking when it comes to suits, the Calvin Klein Men's Slim-Fit Suit should be a perfect look on you for prom. It comes in six different colors you can choose from so that you can go to prom in the color you believe best suits you. Made with 94% wool, it is actually quite comfortable despite the high price tag that it comes with. And you will also love the slim fit approach it has because it makes your figure-flattering.
You should know that this suit sells the jacket and the pants differently so that you can choose the size and color of your jacket and pants. That's a positive in our books. It might be a bit more expensive than others but this suit surely looks and feels good and will be something that you can wear later on for business purposes or for weddings long after your prom. You can look at it here if you feel like this is the suit for you.
2. Stacy Adams Men's Big and Tall Three-Piece Suit
For those who are on the bigger side and are not really fond of wearing slim-fit suits, the Stacy Adams Men's Big and Tall Three-Piece Suit might fit your standards. It is perfect for teenagers who are bigger than most of their peers such as athletes. The suit also comes complete in a three-piece set that includes the jacket, the waistcoat, and the trousers. Its notch lapel also makes it look simple yet elegant enough to be used not only for prom but also for other formal events later on in the future. So, if you are interested in this suit, you can check it out here for more info.