How Do You Match a Tux With a Prom Dress?
Student Prom (studentprom.com) is a participant in the Amazon Services LLC Associates Program, an affiliate advertising program designed to provide a means for sites to earn advertising fees by advertising and linking to Amazon.com. This site also participates in other affiliate programs and is compensated for referring traffic and business to them.
Prom will always be one of the highlights of a high school student's life because it's an event that will only happen once. That's why, in the months leading up to prom, a high school student should look at his/her best so that he/she could have great pictures to match the great memories of prom. And speaking of matching, any couple leading up to prom should look at their best as well by making sure that they match their outfits. So, how do you match a tux with a prom dress?
There are so many factors to consider when matching a tux with a prom dress such as knowing what colors go together and knowing whether or not a bold item goes together with a simple outfit. That's why it's better for the ladies to choose their clothes first and let the gentlemen decide what to wear based on the choice of their dates.
Matching prom outfits won't be the easiest task especially if there is no coordination between you and your prom date. That's why it is always better to talk to each other ahead of the prom and to make sure that you know what colors and styles look good together so that you and your date could look at your very best. You might even end up getting named prom king and prom queen together if you go with clothes that match perfectly.
How do you match a tux with a prom dress?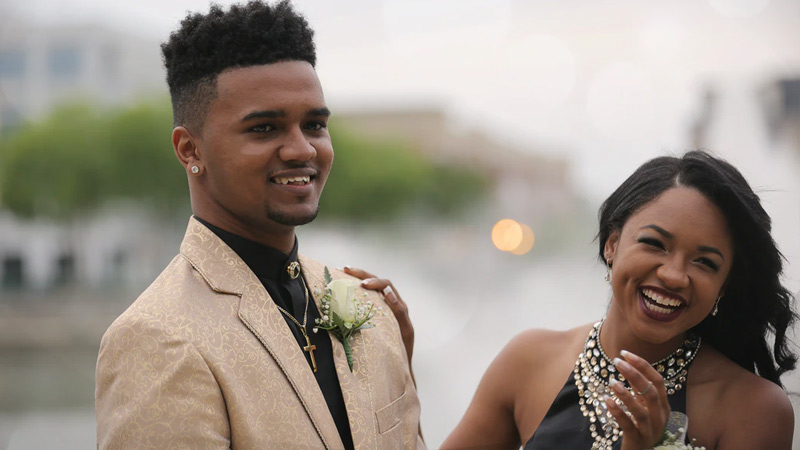 One of the greatest moments a high school student would ever experience is prom night. That's because prom is usually the culmination of the many different experiences that a high school student went through in the four years he/she spent there. As such, making sure that prom is one of the most memorable nights of a high school student's life should be at the top of the priority list.
So, if you are a high school student wondering how to prepare for prom, you have come to the right place. Of course, reading this article is the best choice you could make especially if you have a date for prom night. That's because we are here to make sure that you look at your best in the weeks leading up to prom because, let's face it, no one wants to remember attending prom looking only half as good as he/she would have liked. As such, it's important that you not only good on your own but also that you look good together with your prom date.
Yes, we are talking about matching your outfit with that of your dates. It is important for you and your date to match your tux and your prom dress precisely because you want to look good together. While there will be gentlemen wearing their tux and ladies wearing their prom dress looking good on their own, it is also true that matching one good-looking tux with another good-looking prom dress doesn't necessarily equate to a good-looking pair. As such, you have to know how to match a tux with a prom dress.
But before we get to the meat of things, let us first look at some quick tips that would help you match a tux with a prom dress the right way:
1. Knowing whether to match or not
First things first, you have to decide whether you actually want to match prom outfits or not. That's because there will be some prom couples who actually prefer to look unique individually without having to match their clothes. There are a lot of cases where this is perfectly alright because of how both the gentleman and the lady chose the prom outfits good enough that it doesn't even matter whether or not they match. And, most of the time, it is the lady who has the say in this matter.
Ladies should be the ones to decide whether or not prom dates should match their outfits. No, this isn't because ladies always have the final say in any couple-related matter. It's actually because prom dresses tend to be much more unique compared to the tux that most gentlemen wear for prom. And, most of the time, men can just simply wear a tux that goes perfectly well with any prom dress regardless of whether or not they actually match.
So, in such a case, a lady can wear a prom dress that is as unique as ever and can be difficult to match for her date. This is where they would decide whether or not to match prom outfits as the gentleman might have a hard time looking for a style or color that perfectly matches with the lady's dress. If they would decide not to match, then the gentleman can wear a basic black tux that basically looks good with anything.
There will also be cases where both the gentleman and the lady value their own individuality and would like to stand out on their own during prom night even though they may be attending the event together as each other's dates. In truth, there really is no problem with that as long as you two look good individually. That's why it is quite important for you to decide from the start whether you actually want to match outfits or not.
2. Communicate
Communication is another key factor when it comes to matching a tux with a prom dress heading into prom. You and your date should make sure that you are actually talking to each other about your prom outfits so that there is no confusion as to how you both want to look good on the actual night of the prom.
Sure enough, you and your date might be regularly communicating about some of the other things that you want to happen during prom night but it is more important for you to start first with how you want to look. Talk to your date about your outfits so that you can actually decide what you think will match well with a certain type of style or color.
It is also important for you to value each other's opinions and try to meet halfway through so that no one would end up on the losing end of the stick when it comes to what you want to wear during prom. In all other cases, the most important trio is communication, communication, and communication.
3. Ladies first
For the gentlemen, if you don't know what to wear and you are not sure of what you feel would make you look great while matching your outfit with that of your date's, the key here is to allow the ladies to go first.
No, we're not saying this because men should always adjust to what the women want. Instead, we are saying this because it's actually much more difficult for the ladies to pick what they want to wear for prom especially when they want to be as unique as possible. There are plenty of different colors, styles, and accessories that women have to choose from. So, for the men, the best way for you to help make things easier for the women is to adjust to what they have decided for themselves.
Another detail that is worth considering here is that men usually find it easier to look for an outfit to wear for prom compared to women because of how most prom outfits for men are more or less vanilla but with a few changes here in there in the color and the fit. As such, once the ladies have already decided what to wear, it's going to be easier for the men to match what their dates are going to wear simply by choosing the right colors and accessories.
4. Bolds go with the basics
It might be a bit tempting for you and your prom date to go with the bold designs and colors especially if it fits your personality. But, take it from us, try to tone it down a notch by having only one of you going with the bold design and colors. That's because having two people with bold outfits doesn't seem to match at all and it certainly seems over the top.
In that case, the best decision to make is to pair a bold outfit with a basic and simple design that not only accentuates the boldness and loudness of the outfit but also tones the entire ensemble down. You'd be surprised to see what a simple tux can do when paired with a dress with all of those different colors and accessories. Similarly, a simple unicolored dress would look great with a tux that has all of those shocking designs and colors.
But, again, it's better to wait on what the lady wants to decide because matching a tux with a dress tends to be much easier. As such, if the lady chooses to go with a bold outfit, the gentleman should go and choose a basic tux. Similarly, if the lady wants to go with the simple and basic, the gentleman could probably go with a bold tux that tends to stand out.
5. Accessories can be enough for matching
There is no rule that states that the only way for prom outfits to match is by having one dominant color or design. It really doesn't always work that way although there are some people who would say that the best way for you to match outfits is to make the tux and the prom dress similar in terms of their overall style and appearance.
However, not all prom couples want to come to the dance looking like a matching set that seems off when they aren't together at all times. In some cases, there will be ladies who would want to choose a dress color regardless of whether or not it matches the tux of the gentleman. Similarly, not all gentlemen should try to match whatever dress the lady chooses.
So, if you still want to come to the prom looking like a well-dressed couple that still matches in the simplest way possible, accessories would be more than enough for you to match. As such, even if the gentleman's tux is of a different color or texture compared to the lady's dress, he can still match his date by choosing an accessory that matches the overall profile of his date's outfit.
Some of the most popular accessories include pocket squares, cummerbunds, neckties, hats, and suspenders. For example, if the lady comes in a pink dress made from silk, the gentleman doesn't need to wear a similar tux but could accessorize by choosing a tie or a pocket square that has the same color and texture as the lady's dress.
6. There is no perfect way to match outfits
As early as possible, both you and your date should understand that there is no perfect way for either of you to match outfits. Having the exact same textures, designs, and colors might seem "perfection" to some couples but that isn't always the case because you wouldn't want to go to prom looking like you were cut out of the same cloth. And, in some cases, even if both of you come to prom dressed almost identical to one another, that doesn't necessarily mean that you both look good in your respective outfits as the gentleman's tux might not match his skin color or when the lady's dress doesn't seem to compliment her body type.
That is why you have to understand that there is no such thing as perfection when it comes to matching your outfits. You don't have to try to make things as perfect as possible by stressing yourselves out with every single detail. It's perfectly fine if there are some parts of your respective outfits that don't match.
As long as you did your best to match your outfits and as long as you both look good in what you are wearing, you'd be fine. After all, prom night isn't always about the outfit but is about having fun and making memories that would last forever.
7. How to match with a date without seeing a prom dress
There will be instances where the gentlemen would find it hard to match a tux with his date's prom dress precisely because he hasn't seen the dress itself or because he has no idea what his date is going to wear. And this is quite common because there are some ladies who would want to keep their outfits a secret because they want to surprise everyone.
So, for the gentlemen out there, what should you do if you haven't even seen your date's prom dress or if you don't even have an idea what she is planning to wear?
8. Go with the classics
If you don't know what your date is going to wear, then the best you could do is to go with the classics. That means that you may want to go to the prom wearing a perfectly elegant and sophisticated black and white tux combination that has never failed anyone in the past. Black and white will always look good with any outfit. As such, this is the safest choice you can make.
For those who don't think that black is their most flattering color of choice, they could go with other classics such as navy blue and charcoal gray. As long as you go with the timeless classics that have always looked great on any guy regardless of what the lady is wearing, you will be fine.
9. Arm yourself with a set of different accessories
As we have mentioned, accessorizing can be the best way for you to match your date's outfit if you are looking to match what she is wearing in the simplest way possible. But if you don't know what your date is wearing, then you can go with a timeless classic tux such as black or navy blue and then pairing it with an accessory that matches what your date is wearing.
So, how would it be possible for you to match her outfit with an accessory? Well, since accessories tend to be quite affordable, you can go and get different accessories in different colors so that you can choose which one to wear when you find out at the last minute what your date is wearing. You can bring these accessories in the car so that you can choose what color of tie you can wear to match the color of your date's dress when you pick her up from her house. This is a safe and surefire way for you to match your date's outfit.
10. Ask what color she's planning to wear
If your date really wants to keep her outfit a secret, the least you could do is to ask what color she's wearing without asking any other detail. She would at least be willing enough to tell you the color of her outfit so that it would be easier on your part to go to prom with a tux that matches what she is wearing. Or, at the very least, you should be able to go to prom with a tux that doesn't look bad when you and your date are together.
So, the moment that your date reveals what color she is wearing, you can start from there regardless of what the design or texture of her dress is. All you need to do is to look for a tux that is quite similar to the color she gave you. Or, if you would like to make things as simple as possible, just go with a timeless tux color combination of black and white and go with an accessory that matches the color of your date's dress.
Prom dress and tux color combinations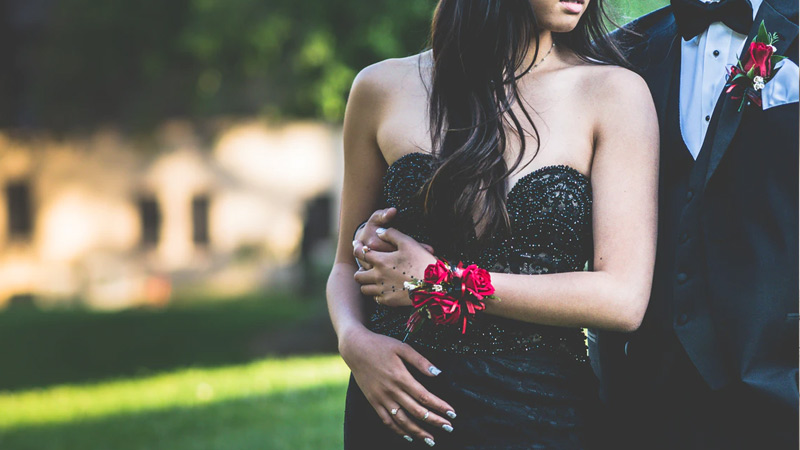 Matching prom dress and tux colors aren't really as easy as it sounds but it shouldn't be difficult as well. That means that it takes more than just wearing a tux that has a color that's similar to that of the lady's prom dress. There are even cases where you don't even have to wear the same color for the two of you to have matching outfits. Similarly, you don't have to be rocket scientists to figure out the ideal color combination.
You can divide the different color groups into three types: cold, warm, and neutral. The cold colors include blues, indigos, greens, and purples. Warm colors are the ones close to red, yellow, orange, and pink. Meanwhile, the neutral colors are the old timeless classics that include black, white, and gray.
So, what do these color types or temperatures indicate? Well, for starters, you should be matching different tux and prom dress colors depending on their color temperatures. For example, cold colors should only be paired with cold colors similar to how warm colors only look good when they are matched with their fellow warm colors.
However, the best thing about neutral colors is that they will certainly look good when paired with any other color regardless. So, if you want to stay safe with your color choices regardless of whether or not you know what your date's color is, you can go with a neutral color.
Matching prom dresses and suits – from amazon.com as you have tried them
If you are not going to be wearing a tailor-made outfit for prom, you can just go online to find some of the best dresses or suits that you can match together to create a good combination for you and your date.
For the gentlemen
For the gentlemen, we recommend that you go with YFFUSHI Men's Slim Fit 3 Piece Suit. This suit comes in a complete package of three pieces that each go well together to form a perfect prom suit that would allow you to stand out. And the best part is that there are different color options for you to choose from so that you can simply pick the one that best matches your date's dress.
This three-piece suit comes with a flattering slim-fit design that's perfect for making any young man's best features stand out. Its materials are also superior enough to make the entire suite durable and long-lasting so that you can still use it long after your prom. You can check this suit out here on Amazon.
For the ladies
For the ladies, the dress that we highly recommend is the Bdcoco Women's Floral Lace Hi-Low Cocktail Party Dress, which isn't only suitable for your prom but can also be worn for other formal evenings events. The dress offers plenty of style options for you to choose from depending on how you want to look for your prom. There are also different colors that can be great whenever you want to match outfits with your prom date. The Bdcoco Women's Floral Lace Hi-Low Cocktail Party Dress comes with a stylish and elegant lace bodice that accentuates a woman's natural curves to make her look stunning even for a formal event without having to reveal a lot of skin. The lace gown is also great for bringing out that sexy figure. So, if you are interested in this dress, you can check this Amazon button out.